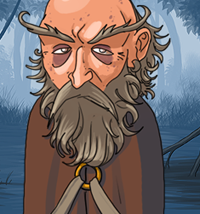 The Elder of
Shadetale
is a slight man with a bald head and tired eyes. His gray beard and eyebrows lend him a wizened aura.
Hood Episode One
The Elder greets the Wolf with courtesy and respect. It is obvious he is relieved to have the expertise of a Hunter. He knows the history of Cameron's family and urges the Wolf to find her to stop the witch's influences that are afflicting the town.
Hood Epside Three
After Lady Marian Windlethorpe's death he claims to have suspected her all along. Upon learning that Cameron is able to speak the language of Them, the Elder becomes furious and refuses to allow anyone to search for the girl. This only serves to convince the Wolf to find her.
Information
| | |
| --- | --- |
| Name: | Unknown |
| Title: | Elder of Shadetale |
| Age: | 65 |
| Origin: | |
| Gender: | Male |
| Race: | |
| Appeared in: | Hood Episode One, Hood Episode Three |
| Status: | Alive |
| Era: | First |
| Allegiance: | Unknown |
| Family: | Unknown |
Ad blocker interference detected!
Wikia is a free-to-use site that makes money from advertising. We have a modified experience for viewers using ad blockers

Wikia is not accessible if you've made further modifications. Remove the custom ad blocker rule(s) and the page will load as expected.