Boyen lives in the forest outside of
Shadetale
. Their stilted hut sits on the edge of the water in the swamp. It is filled with interesting items from different times and places. Boyen has soft orange eyes and wears purple gloves and an orangish-brown hat. Perhaps theirs is an artistic nature for there is a nice drawing of a bee, a flower, and a worm in the back of their journal.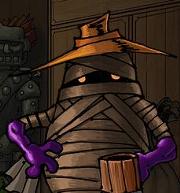 Hood Episode Two
Boyen welcomes the Wolf and tells him Cameron's father was killed by dark entities that are not the demons of the woods. Boyen also speaks mysteriously of the trees having lived with demons for a long time.
Information
| | |
| --- | --- |
| Name: | Boyen |
| Title: | the Shaman |
| Age: | Unknown |
| Origin: | Unknown |
| Gender: | Unknown |
| Race: | |
| Appeared in: | Hood Episode Two |
| Status: | Alive |
| Era: | First |
| Allegiance: | Unknown |
| Family: | Unknown |
Ad blocker interference detected!
Wikia is a free-to-use site that makes money from advertising. We have a modified experience for viewers using ad blockers

Wikia is not accessible if you've made further modifications. Remove the custom ad blocker rule(s) and the page will load as expected.